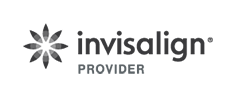 Straightening your teeth using the world's most sophisticated clear aligner has never been easier or more affordable. As a qualified Invisalign provider, we can help you obtain the smile you've always wanted in the most convenient and pleasant method possible.
Why use Invisalign?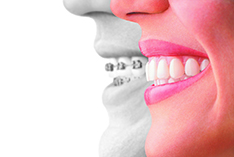 Treatment will be more expeditious: It takes less time to get the smile you desire with weekly aligner modifications. The length of time between aligner adjustments may be increased depending on your treatment response.
Results that have already been achieved: Dental mobility may be controlled more effectively with Invisalign transparent aligners because of SmartTrack® material and SmartForce features.
Better fit: it's a breeze to put on and take off aligners made of SmartTrack material.
Effective: Many teeth-straightening issues, including crossbites, crowding, open bites, gapped teeth, and overbite or underbite may be treated with Invisalign transparent aligners.
Nearly undetectable: Invisalign aligners are virtually undetectable, so most people won't realize you're having treatment!
Comfortable: Invisalign transparent aligner trays are not only smooth and pleasant to wear, but they can also be taken out and replaced. That means you can go about your daily routine as usual, from brushing and flossing to eating anything you choose.
Convenient: Because you just need to come to our clinic every six weeks, Invisalign treatment is great for your hectic schedule.
Getting Started with Invisalign
Your First Appointment with Your Orthodontist
If Invisalign treatment is correct for you, we will review your orthodontic requirements during your first appointment.
Your Personalized Treatment Plan
3D photos of your teeth may be created quickly and accurately with the help of iTero® digital scanning systems. As part of this process, we'll design a detailed treatment plan, which includes the specific motions of your teeth and the length of your therapy. Your teeth will shift, and you'll be able to see what your new smile will look like.
Your Clear Aligners for Invisalign
Invisalign's SmartTrack® material will be used to make your custom-made aligners. Wearing them for teeth straightening won't draw attention to you since they're nearly undetectable.
Do not remove your Invisalign trays while eating, brushing, or flossing; only remove them when you eat, brush or floss.
You're Making Headway!
Each time you put on a new pair of aligners, your teeth will gradually move into their proper position. A new set of aligners every week and a checkup every six weeks or so may be recommended by our team of orthognathic dental professionals.
Being Responsible for Maintaining Your Newly Improved Smile
Inquire about the possibility of using a Vivera® retainer once your treatment is complete. When it comes to Invisalign clear aligners, Vivera retainers have been developed utilizing the same cutting-edge manufacturing techniques.
Please contact our office to book an appointment to learn more about the Invisalign system and other orthodontic treatment alternatives. We can't wait to meet you and get you on the road to a beautiful, healthy smile!
Invisalign and the Invisalign logo, among others, are trademarks of Align Technology, Inc., and are registered in the U.S. and other countries.